Here you will find links to our friends and associates and other web sites offering useful penguin, seabird and sealife conservation and research information.
If you own a website that you feel would be a useful addition here, and are happy to provide us with a reciprocal link, please contact us with details and we will get back to you.



Adopt and name your penguin, and we will send you reports and photos of your penguin's progress. We will even send you a map to show you exactly where your penguin lives, in case you ever want to visit. (Visitors are welcome).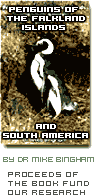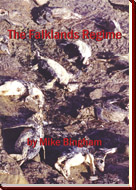 The Falklands Regime by Mike Bingham

We are always pleased to receive donations in support of our work. If you would like to make a donation, click here.



Links to web sites and information about our associates - those people who have helped us or play an active part in our research.

Visit our associates link page here.

Links to web sites of our friends who support us by offering links to us from their web sites, and those kind souls who have volunteered to help us out in the past.

Do you own or know of a Falkland Islands related website. Why not nominate it for the Falklands.net web award. Winners will receive an award graphic to display on their website and a listing on Falklands.net.

Visit the award nomination page here.



Details of the awards we have won for our work and our website, and links to the award sites themselves.
Visit our awards link page here.