Below are links to our latest newsletters.
Click the newsletter you are interested in for the full report.
LOST A POUND, FOUND A PENNY
by Dr Mike Bingham.

There seems to be a lot of confusion as to whether penguins have declined or increased in the Falklands. The answer is both. Whether you concentrate on the decline, the increase, or the overall change depends on your viewpoint or political stance. This newsletter provides an overview of the more in depth PhD Thesis found in the research publications section.

IS TOURISM DAMAGING FALKLANDS WILDLIFE?
By Dr Mike Bingham

The Falklands are made up of more than 700 islands, with a total land area of 12,000 square kilometres, but they have a human population of less than 4,000 people (2,500 civilians and 1,500 military personnel). The Falklands may seem an unlikely destination for ecotourism, but in fact they receive more than 30,000 tourists per year, and the numbers are growing. Read an in depth research report about the effects of tourism on falklands wildlife by Dr Mike Bingham here.



Adopt and name your penguin, and we will send you reports and photos of your penguin's progress. We will even send you a map to show you exactly where your penguin lives, in case you ever want to visit. (Visitors are welcome).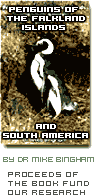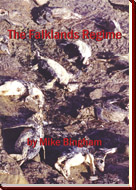 The Falklands Regime by Mike Bingham

We are always pleased to receive donations in support of our work. If you would like to make a donation, click here.