NC536 – Falkland Islands
This unique piece by remote sensing artist Stuart Black features 540 km x 480 km of the South Atlantic Ocean, including the Falkland Islands.
The print also shows the waters east of the islands swirling with the blues and greens that indicate a massive bloom of microscopic marine plants called phytoplankton.
The NATURE'S CANVAS print - which measures 24 x 24 inches - is part of a collection of artwork designed to help organisations raise funds for conservation projects.
One third of the proceeds generated from the sale of this print will be donated to the Environmental Research Unit's penguin conservation projects.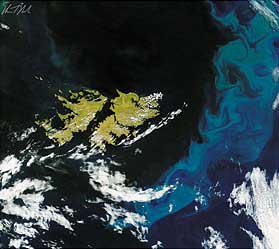 The original image (courtesy of the MODIS Land Rapid Response Team, NASA/GSFC) is centred on Latitude S51 45 30 / Longitude W57 30 00 and was acquired on 13-NOV-2001 by the TERRA satellite observing the Earth from a 705 km orbit.



Adopt and name your penguin, and we will send you reports and photos of your penguin's progress. We will even send you a map to show you exactly where your penguin lives, in case you ever want to visit. (Visitors are welcome).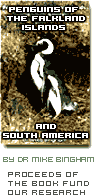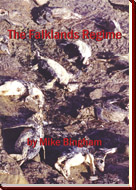 The Falklands Regime by Mike Bingham

We are always pleased to receive donations in support of our work. If you would like to make a donation, click here.