PLANT SPECIES

Maps and figures relating to these data can be found in the Picture Galleries.

Any information used or copied from these reports MUST be referenced to the author.



Adopt and name your penguin, and we will send you reports and photos of your penguin's progress. We will even send you a map to show you exactly where your penguin lives, in case you ever want to visit. (Visitors are welcome).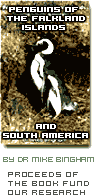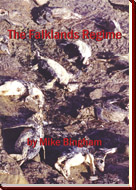 The Falklands Regime by Mike Bingham

We are always pleased to receive donations in support of our work. If you would like to make a donation, click here.
Abrotanella emarginata
Acaena lucida
Acaena magellanica
Acaena microcephala
Acaena ovalifolia
Acaena pumila
Achillea millefolium
Achillea tomentosa
Adiantum chilense
Agoseris coronopifolium
Agropyron magellanicum
Agropyron repens
Agrostemma githago
Agrostis canina
Agrostis magellanica
Agrostis stolonifera
Agrostis tenuis
Aira caryophyllea
Aira praecox
Alopecurus antarcticus
Alopecurus pratensis
Ammophila arenaria
Anagallis alternifolia
Anthemis arvensis
Anthemis cotula
Anthoxanthum odoratum
Apium graveolens
Arachnitis uniflora
Armeria macloviana
Arrhenatherum elatius
Asplenium dareoides
Astelia pumila
Aster vahlii
Avena fatua
Avena sativa
Azorella caespitosa
Azorella filamentosa
Azorella lycopodioides
Azorella selago
Baccharis magellanica
Bellis perennis
Blechnum chilense
Blechnum magellanicum
Blechnum penna-marina
Bolax gummifera
Botrychium dusenii
Bromus condensatus
Bromus mollis
Calandrinia feltonii
Calceolaria biflora
Calceolaria fothergillii
Callitriche antarctica
Calluna vulgaris
Caltha appendiculata
Caltha sagittata
Capsella bursa-pastoris
Cardamine glacialis
Carex acaulis
Carex aematorryncha
Carex banksii
Carex caduca
Carex curta
Carex decidua
Carex flacca
Carex fuscula
Carex macloviana
Carex magellanica
Carex microglochin
Carex trifida
Carex vallis-pulchrae
Centaurea cyanus
Cerastium arvense
Cerastium fontanum
Ceratochloa unioloides
Chenopodium macrospermum
Chevreulia lycopodioides
Chiliotrichum diffusum
Chloraea gaudichaudii
Chrysanthemum leucanthemum
Cirsium arvense
Cochlearia officinalis
Codonorchis lessonii
Colobanthus quitensis
Colobanthus subulatus
Coronopus didymus
Cortaderia pilosa
Cotula scariosa
Crassula moschata
Cynosurus cristatus
Cynosurus echinatus
Cystopteris fragilis
Dactylis glomerata
Deschampsia antarctica
Deschampsia flexuosa
Deschampsia parvula
Draba funiculosa
Draba magellanica
Drapetes muscosus
Drosera uniflora
Dryopteris dilatata
Dryopteris filix-mas
Elatine triandra
Eleocharis albibracteata
Eleocharis melanostachys
Elymus arenarius
Empetrum rubrum
Epilobium cunninghamii
Erigeron incertus
Erodium cicutarium
Erysimum cheiranthoides
Euphorbia peplus
Euphrasia antarctica
Festuca erecta
Festuca magellanica
Festuca pratensis
Festuca rubra
Gaimardia australis
Galium antarcticum
Galium saxatile
Gaultheria antarctica
Gavilea australis
Gavilea littoralis
Gentianella magellanica
Geranium molle
Geranium robertianum
Gleichenia cryptocarpa
Gnaphalium affine
Gnaphalium americanum
Gnaphalium antarcticum
Gnaphalium luteoalbum
Gnaphalium spicatum
Grammitis kerguelensis
Gunnera magellanica
Hamadryas argentea
Hebe elliptica
Hieracium antarcticum
Hieracium aurantiacum
Hieracium patagonicum
Hierochloe redolens
Holcus lanatus
Hordeum comosum
Hordeum jubatum
Huperzia selago
Hydrocotyle chamaemorus
Hymenophyllum falklandicum
Hymenophyllum tortuosum
Hypochoeris arenaria
Hypochoeris radicata
Isolepis cernua
Juncus bufonius
Juncus effusus
Juncus scheuchzerioides
Koeleria bergii
Lagenophora nudicaulis
Lamium amplexicaule
Lamium hybridum
Lamium purpureum
Leontodon hispidus
Leuceria suaveolens
Lilaeopsis macloviana
Limosella australis
Littorella australis
Lolium multiflorum
Lolium perenne
Luzula alopecurus
Luzula campestris
Luzuriaga marginata
Lycopodium confertum
Lycopodium magellanicum
Marsippospermum grandiflorum
Medicago arabica
Medicago lupulina
Medicago sativa
Mentha x piperita
Mercurialis annua
Montia fontana
Montia perfoliata
Myosotis arvensis
Myosotis discolor
Myriophyllum elatinoides
Myrteola nummularia
Nanodea muscosa
Nassauvia gaudichaudii
Nassauvia serpens
Nastanthus falklandicus
Nertera depressa
Ophioglossum crotalophoroides
Oreobolus obtusangulus
Oreomyrrhis hookeri
Oxalis enneaphylla
Parodiochloa flabellata
Perezia recurvata
Pernettya pumila
Phlebolobium macloviana
Phleum pratense
Phyllitis scolopendrium
Plantago barbata
Plantago lanceolata
Plantago maritima
Poa alopecurus
Poa annua
Poa pratensis
Poa robusta
Poa trivialis
Polygonum maritimum
Polystichum mohrioides
Potamogeton linguatus
Pratia repens
Primula magellanica
Puccinellia glaucescens
Puccinellia pusilla
Racomitrium orthotricaceum
Ranunculus acaulis
Ranunculus biternatus
Ranunculus hydrophilus
Ranunculus maclovianus
Ranunculus pseudotrullifolius
Ranunculus repens
Ranunculus sericocephalus
Ranunculus trullifolius
Raphanus sativus
Ribes nigrum
Rostkovia magellanica
Rubus geoides
Rumex acetosella
Rumex angiocarpus
Rumex crispus
Rumex obtusifolius
Rumohra adiantiformis
Sagina procumbens
Saxifraga magellanica
Schizaea fistulosa
Schizeilema ranunculus
Schoenoplectus riparius
Scutellaria nummulariifolia
Sedum acre
Senecio candidans
Senecio littoralis
Senecio vaginatus
Senecio vulgaris
Serpyllopsis caespitosa
Silene dioica
Silybum marianum
Sinapis alba
Sisymbrium officinale
Sisyrinchium chilense
Sisyrinchium jubatum
Sonchus asper
Sonchus oleraceus
Spergula arvensis
Spergularia media
Stellaria debilis
Stellaria media
Suaeda argentinensis
Taraxacum magellanicum
Taraxacum officinale
Tetroncium magellanicum
Trifolium aureum
Trifolium campestre
Trifolium dubium
Trifolium fragiferum
Trifolium hybridum
Trifolium pratense
Trifolium repens
Trisetum spicatum
Ulex europaea
Uncinia brevicaulis
Urtica dioica
Urtica urens
Valeriana sedifolia
Valerianella locusta
Veronica serpyllifolia
Vicia cracca
Viola arvensis
Viola maculata
Viola magellanica
Viola tridentata
Vulpia bromoides