Rufous-chested Dotterel
Charadrius modestus
Local Name: Dotterel
Breeding Range: Falklands & southern South America
Length: 22cm.
Falklands Population: ~10,000 breeding pairs
World Population: unknown
The Rufous-chested Dotterel is very common throughout the Falklands. It is often seen feeding on mud-flats and estuaries alongside Two-banded Plovers and White-rumped Sandpipers, but is equally at home further inland feeding on heath and grassland where it generally prefers to nest.
Two eggs are laid in a simple hollow amongst vegetation from September onwards. Chicks leave the nest at an early age and feed themselves under the watchful eye of the adults.
Adults and chicks feed on a wide variety of invertebrates, from insects and burrowing larvae found in heath and grassland, to marine invertebrates taken from rockpools.
During the breeding season Rufous-chested Dotterels are readily identified by their chestnut breasts, but during the non-breeding season the birds are much drabber in appearance.

Rufous-chested Dotterel
Charadrius modestus



Adopt and name your penguin, and we will send you reports and photos of your penguin's progress. We will even send you a map to show you exactly where your penguin lives, in case you ever want to visit. (Visitors are welcome).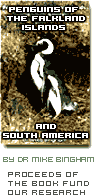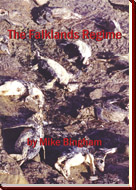 The Falklands Regime by Mike Bingham

We are always pleased to receive donations in support of our work. If you would like to make a donation, click here.